According to NHS England Job planning is "an important means of linking best use of resources with quality outcomes for patients and as a useful element in service redesign. By documenting professional activity in job plans, NHS providers can better understand their workforce capacity and match it to patients' needs. When this is combined with e-rostering software, providers can effectively plan and deploy their workforce to achieve the productivity gains…".
But, what exactly is a job plan? A job plan is a prospective, professional agreement describing each employee's duties, responsibilities, accountabilities and objectives. It sets out how an employee's working time will be spent delivering direct clinical care (DCC),  supporting professional activities (SPA), and other activities.
A comprehensive job plan will show the timetabling of scheduled activities and define the number of flexible and annualised activities. This enables monitoring of an individual employee's annual outputs, particularly when combined with e-rostering.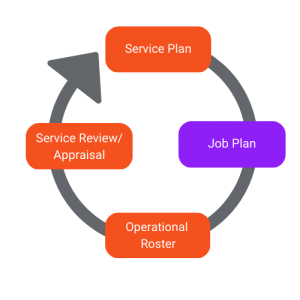 For all healthcare organisations, job planning is a contractual obligation for medical staff, ensuring you can align personal and organisational objectives, whilst enhancing outcomes for patients and service efficiency. But how do you align the rest your clinical staff? With Trusts now required to have job plans in place for a minimum of 90% of their clinical staff, this is more important than ever.
Extending job planning to your AHPs
The way in which provider trusts deploy their AHPs varies significantly, which makes it challenging to match AHP resources to trusts' overall activity plans and objectives. By applying job plans to AHPs you are not only ensuring you meet national requirements, but also empowering your entire clinical workforce to shape services, boost moral, aid staff recruitment and retention and ultimately improve patient safety and care quality.
Here are our key benefits of job planning for AHPs:
 1. Aligning Resources
Job planning for AHPs enable you to align resources across your entire organisation, maximising impact on patient outcomes.
2. Quantify Clinical Capacity
Evidence the number of staff you have available and whether this capacity is sufficient to meet service demand.
3. Quantify Clinical Contribution
Determine the individual contribution each clinician will make to delivering defined service objectives.
4. Understand Diversity of Skills
Provide an overview of the multi-disciplinary team to support delivery of a skills-based allocation of tasks and activities.
5. Understand Income Generating Work
Capture and quantify any activity delivered for external bodies to ensure income generated reflects actual contribution.
6. Support Professional Activities
Enabling your AHPs to identify their supporting professional activities can be used as evidence in their own revalidation.
7. Align Personal & Organisational Priorities
Aligning organisational and personal objectives will improve safety and quality, reduce bank and agency spend and aid staff recruitment and retention.
Ready to find out more about job planning for your AHPs?
We have a variety of useful resources to help you start your AHP job planning journey. 
1
Watch the On-Demand webinar
Our on-demand webinar features The Dudley Group NHS Foundation Trust talking about the key benefits they have seen since introducing job planning for their AHPs. Discover the key reasons to job plan for AHPs and the the value of linking with rosters.
2
Speak to the team
Want to chat to someone to understand more about job
planning for your AHPs? Click the link below to speak
directly to a member of the team.
3

Download the Graphic: 7 Key Benefits to AHP Job Planning
We've created a handy graphic outlining the key benefits to
introducing job planning to your AHP workforce.
4

Learn more
Find out more about the job planning for AHPs can
support to match your AHP resources to your
overall activity plans and objectives.