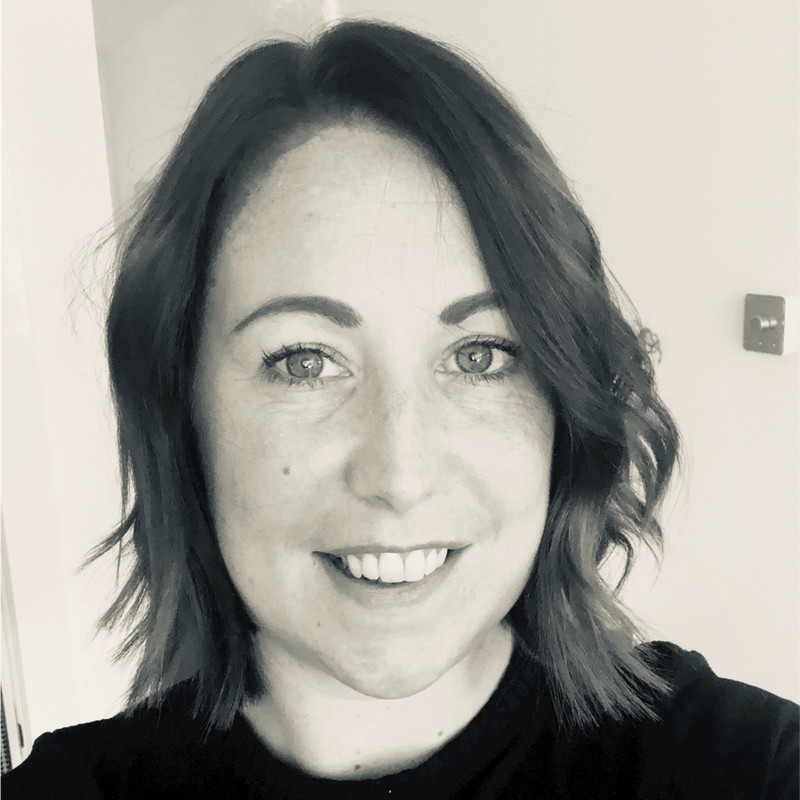 Kirsty Edwards, Account Manager eCommunity, RLDatix writes:
You always manage to surprise me with the variety of questions you ask me in Allocate eCommunity conversations and demos. Not that it's a bad thing. I like to think it keeps me on my toes and is a regular reminder of just what the solution is capable of.
Out of everything I get asked by nurses, managers and directors, there are a few questions that come up more than others. So I thought it may interest you to hear just what they were. Here are my '5 most common questions about Allocate eCommunity'.
#1: "Does it auto-allocate the patients to reduce the amount of travel needed, if this fits the appointment requirements?
Yes, Allocate eCommunity uses Postcode Anywhere to generate the predicted travel time based on data over the last 3 months, and therefore understands where there might be ongoing roadworks for example. In addition, the app allows the clinician to use their mobile navigation to find the quickest route at the time of travel.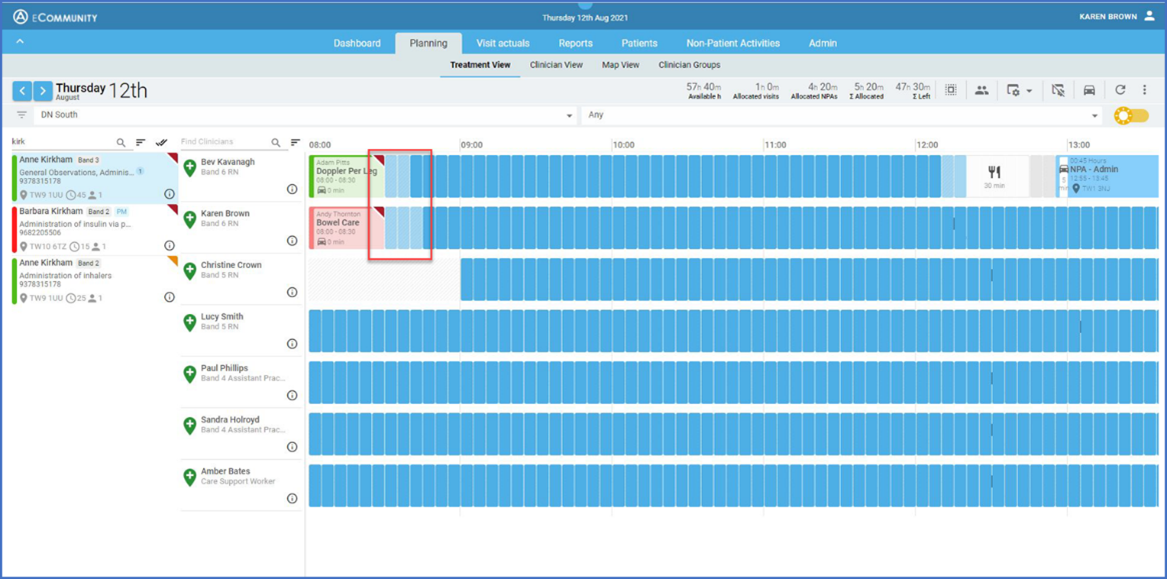 #2: "If there is not enough time in the clinicians diaries for the visits on the system, what happens to the visits which cannot be allocated?
If clinicians are being asked to work extra to cover these visits you can extend working times in Allocate Optima (previously known as HealthRoster) to allocate – this is really important to keep a track of additional working hours and to fully understand capacity and demand challenges.
If this isn't possible the visits can be allocated to a different team (OOH for example), deferred or cancelled. All of which require a reason and in some cases, a risk assessment, to be added to the system. You can then easily track within the reports where visits have been deferred, by how many times and for how many days, so they are never 'lost'.
#3: "Does Allocate eCommunity have the option to have different skills reflected for staff? I.e. B5 cannot see End of Life (EOL) patient as they've not had the training yet?"
Yes, each treatment has a minimum band you can set, but also you could use specific skills for this if only certain band 5s would have had the training for that specific skill. Skills can also be time-based where an annual re-assessment is needed, for example. All the information on which staff have what skills automatically comes from Allocate Optima (formally known as HealthRoster) through our one-of-a-kind interface so it's always up to date in Allocate eCommunity.
We're also soon to release the ability to flex this at patient level in-line with the workforce standards and personalisation of care guidelines, so stay tuned for more information coming your way!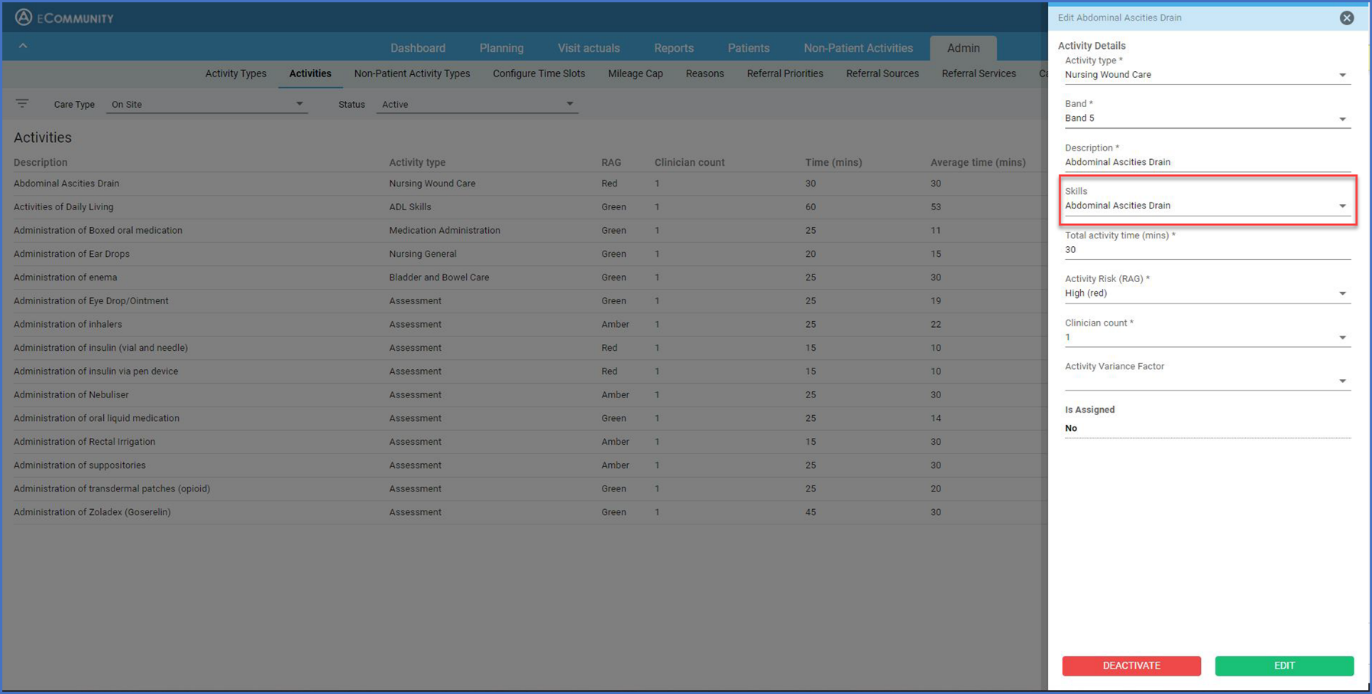 #4: "How does the system import roster information from Allocate Optima?"
Allocate eCommunity is the only scheduling system with native integration through Allocate Optima which brings across the approved roster, including staff role, band and skills, and importantly any subsequent changes to that roster (e.g. sickness, addition of bank/agency, movement between teams). This ensures Allocate eCommunity always has a live view of capacity and staff availability.
We also work in partnership with a number of PAS providers to ensure demand information (patients and referrals) is also up-to-date in Allocate eCommunity in real-time.
#5: How does the system handle tasks that are not patient visits but still need to be scheduled e.g. team handovers / meetings, pick up of equipment?
Allocate eCommunity call's these tasks 'non-patient activities' and these can be fully configured by teams to be added to the schedule as needed. They might be one-off tasks for individual clinicians (pick-up of equipment for example), or they might be tasks that happen on a regular basis for a number of the team such as team huddles. They can also have a location linked or be remote activities.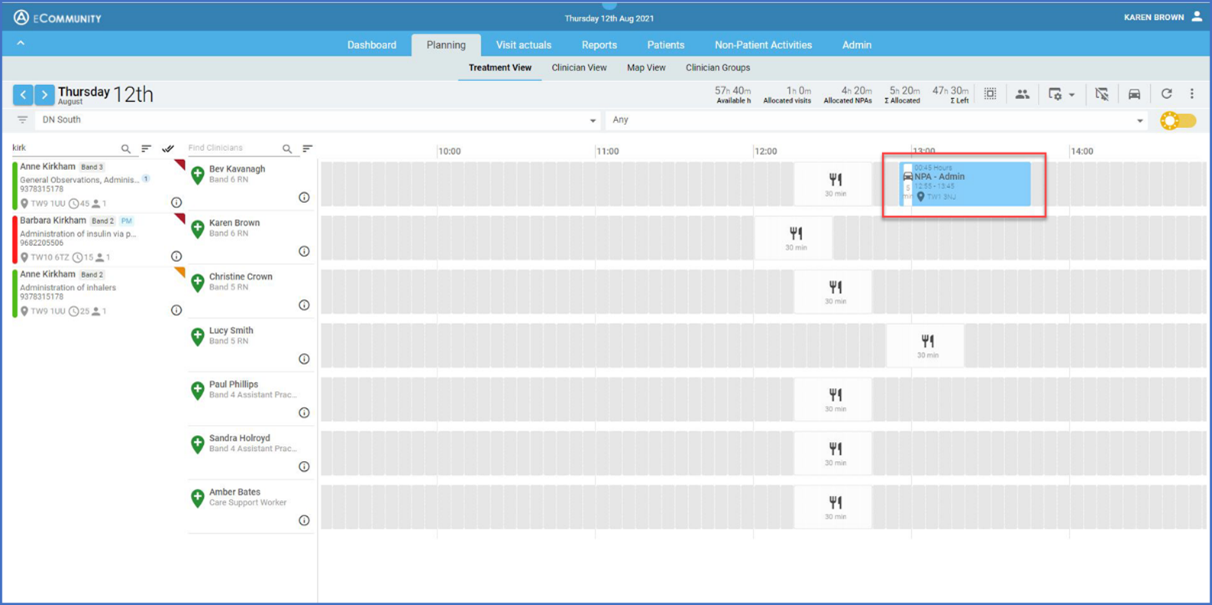 Have we not answered your question?
If I've not explored a question that's currently on your mind, why not ask me directly?
Simply complete the below form with your basic contact information and question(s), and I'll get back to you with an answer.
Our mission is to help protect the future of community care by showing how technology can be enabler for your organisation and workforce. You can find out more about Allocate eCommunity on our dedicated page.