As the CQC responds to the consultation on its strategy and looks to update their Key Lines of Enquiry (KLOEs), we closely monitor developments to ensure that they are adopted quickly. As you will be aware, the CQC have recently launched a consultation to review the provision for KLOEs for all provider types.
Assessments will be simplified and amended from the current 11 provider handbooks to 2 KLOE frameworks for Healthcare and Social Care.
Changes will be in place by April 2017 with the first inspections anticipated to be carried out 2 – 6 months later, with any changes being rolled out over a 2 year period.
The Well Led domain has ever increasing focus and continues to underpin the rationale for the KLOEs, in addition, now examining the use of resources by a provider; this will allow Allocate to support you further by unlocking metric data directly from your rostering products, and measuring useful insight on staffing and other indicators – providing transparency from ward to board.
The Provider Information Request (PIR) process has also been reviewed with a "lighter touch" on information requested (focused again on the well-led aspect), in addition the CQC will use data from other sources such as HES and National Audit data.
Self-Assessment will also become part of the PIR and you will be required to describe Quality against the 5 key questions – Safe, Effective, Caring, Responsive & Well Led.
Comprehensive inspections will only be carried out for new providers or for trusts with specific concerns and risks as highlighted in CQC Insight. CQC Insight will contain more timely information and will be managed and supported to ensure you have the evidence you need in preparation for the inspection.
Within HealthAssure we have sets of defined Metrics for both quality and performance from the published Single Oversight Framework, each metric is aligned specifically to the CQC key questions and can be measured at Trust, Core Service and Ward level as required.
In response to these changes, Allocate have and will continue to ensure the following aspects are integrated into your system:
Creation of new Healthcare and Social care KLOE sets for all levels of your organisation
Migration of existing Commentary and Evidence where items can be mapped
Retention of existing data/KLOE sets for full audit
Metrics configuration and mapping of metric data for the organisation
Our aim is and always will be to ensure that we monitor and adapt frameworks to assure that adoption at scale and pace is optomised.   
For existing customers, as always, your Customer Success Analyst will be in contact with you as the changes are implemented, providing an opportunity to discuss how this impacts you, and your services.
If you're not already working with us, you can contact us for a no obligation consultancy day to see where we can assist you with managing your CQC compliance, where we would review your current governance processes, understand your challenges and help you achieve your goals. Contact [email protected]
We are currently running an initial set of webinars to better inform and offer an opportunity to support your preparation for April 2017.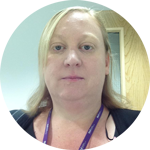 My name is Sarah Owers and I am the Product Owner for HealthAssure. I have worked for Allocate for coming up to 4 years and I started here as a Product Management Specialist and Customer Success Consultant for the HealthAssure product. It's great that my job is so varied, I get to travel and really get a kick out of meeting all of our customers. I enjoy the relationships that I have built and I love to continually learn from the people I meet as well as share my experience.