It is our experience that having well trained expert administrators, and highly trained users of our software with a good understanding or related processes, is essential for ensuring ongoing benefits realisation – whether that is safer and more efficient staffing or more robust alerting around assurance gaps.  We recognise that there are so many users of different levels across organisations, some doing really great work and some that would be – if only they knew how to use more of the system's features!  We also know that the knowledge and skills of those implementing and managing the administration of our products, even if they are in similar roles (i.e. band) can vary quite significantly.  How does an organisation know for sure how 'expert' an individual is when they are recruiting?  How does an individual prove that they really do know what they're talking about, can support the system and its users and have creditability with the board when making recommendations?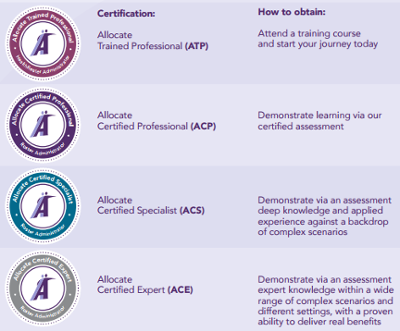 This is why we introduced Allocate Academy training and accreditation. More than simply technical product training the Allocate Academy offers a number of levels of progression from Allocate Trained Professional (ATP) to an Allocate Certified Professional (ACP), to Allocate Certified Specialist (ACS) to finally an Allocate Certified Expert (ACE) status.  Our training and accreditation programmes are designed to ensure administrators, users and even sponsors of our software are empowered with knowledge, in-depth understanding and confidence, and are rewarded and recognised for their skills and achievements.  We aim to focus our training and accreditation programmes on the development and empowerment of individuals, so that their expertise can benefit their teams and ultimately the organisations that they work for, in striving to drive best practice and use of the software for maximum benefit.  The scope of our curriculum delivers this knowledge and understanding in both the software as well as the processes and context in which the software needs to work.
From attendance to any training delivered by Allocate (public course, bespoke training, or training as part of an implementation), to the achievement of Professional, Specialist or Expert status, individuals are rewarded with certification that is valid for two years and recognised within the User Group community.  They become part of a register of experts, being formally endorsed by Allocate, and can also receive CPD merits for applicable courses and events.
The Academy offers: 
A variety of fixed public courses that can be easily booked online
View all current public courses
Bespoke training programmes upon request – for individual organisations or for multiple organisations collaborating within their Regional User Group
Allocate Trained Professional (ATP) awards for all people who attend any training delivered by Allocate
Assessments by product at Administrator level, in order to achieve Allocate Certified Professional (ACP) status

HealthRoster Administration live
BankStaff Administration coming soon- contact 

[email protected]

 for more information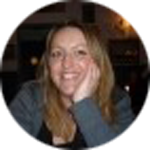 Senior Project Manager at Allocate Software. Contact me for any Allocate Academy training queries