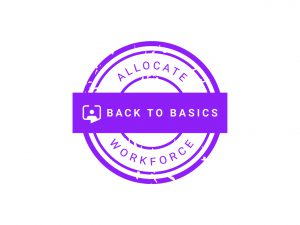 The UK health and care system, as you know, is under unprecedented pressure that is being exacerbated by the workforce shortage. As an organisation providing risk management and workforce solutions to the health and care sector, we want to try to help relieve some of that pressure and allow the workforce to focus on doing what it does best , which is why we've launched #BacktoBasics.
We have worked with many of our Allocate colleagues and friends, that have vast experience working in care delivery settings, to share their best tips and tricks that we know work. Many of the contributors to the resources on the Hub are trained and experienced workforce professionals, nurses, doctors, or involved in HR or finance within health and care.
The Back to Basics Hub  brings together resources to help you manage and optimise your work on essential topics such as Agency Reduction, Sickness and Absence, Safe Staffing, Temporary Staffing, Rostering, and more. The Hub is an online resource centre for you to access tried and tested methods, new ideas, and above all, resources to try and make your vital roles that little bit easier and help you do what you do best: care for your patients and colleagues.
Watch our video below to discover more about why we are going back to basics.
Access the Resource Hub Now
Have you got an idea for a useful resource?
We will keep adding resources to the Hub regularly; and if you have any suggestions for a useful resource you would like to see in the Back to Basics Hub or if you'd like to collaborate with us on a piece of content, fill out this quick form and we'll be in touch.
Watch the video to discover why we are going back to basics and to discover some tried and tested advice for reducing temporary staffing spend: