Medics Monthly Round Up | October 2023
October has been a busy month in the world of Medics Workforce Management. From our annual People Summit and attending NAMPS, to more Community Catch Ups and new resources, we cover it all in this month's Medics Monthly Round Up.
Don't want to miss any updates? Sign up to our monthly updates and get them straight to your inbox.

PEOPLE SUMMIT: Medics Masterclass
October saw the return of People Summit, this year taking place at the Bournemouth International Centre. Thank you to everyone who attended this year's event, both in person and virtually, and we hope you found the content of the sessions useful and insightful.
One particular highlight was this year's 'Medics Workforce Masterclass' where we heard from the Medical Rostering Team at Royal Cornwall Hospitals NHS Trust. Thank you goes to Leanne Hargreaves, Medical Rostering Lead and Suzy Thalha, Clinical Admin Lead & Rota Coordinator, who shared their experience and insights into medical workforce management, including how they help their consultants build business cases for more resource.
This session will be made available soon to watch back from our 'On Demand Hub'. Keep subscribed to the round up to hear when this is available.

RLDatix Awards: Congratulations to the team at Epsom and St Helier University Hospitals NHS Trust
Congratulations to the team at Epsom and St Helier University Hospitals NHS Trust for winning the 2023 RLDatix Award in the category ' Innovative Award for Quality Improvement'.
The judges said it was an innovative example of the medics programme of work to improve onboarding, setting benchmarks for excellence in quality improvement, and is replicable across all organisations and very informative.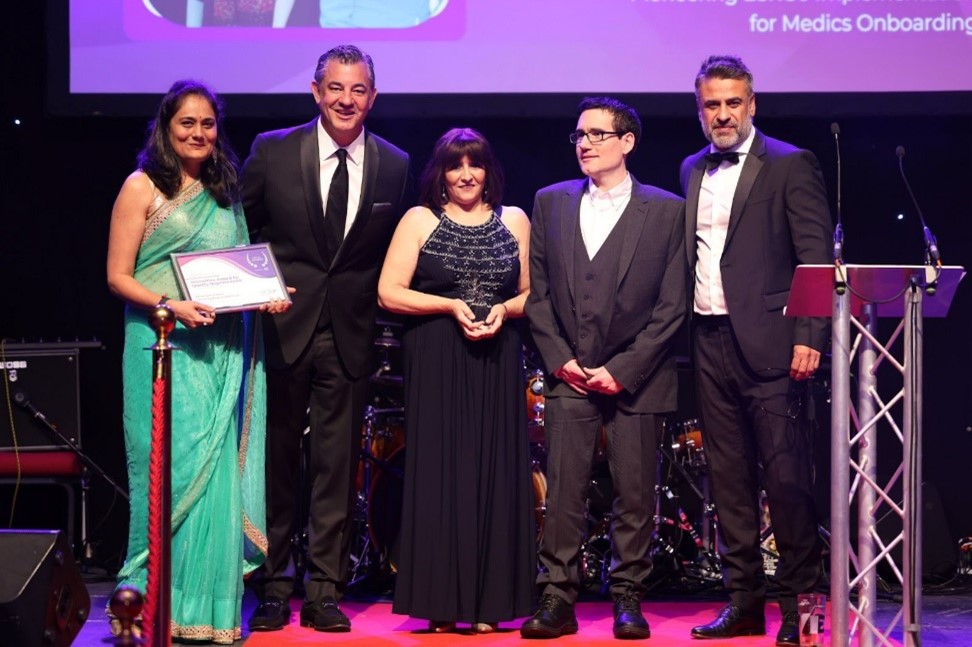 Pictured: the Epsom and St Helier University Hospitals NHS Trust team accepting their award from Jeff Surges, RLDatix CEO and Arti Fiaz, RLDatix, Sales Director and Interim Managing Director.

JOB PLANNING: Request your free assessment
Are you looking to extend Job Planning to other areas of your organisation, including Allied Health Professionals, Nurse Specialists, Pharmacists and more?
Our free job planning assessment may be just what you need to help demonstrate the value you can add to your organisation by extending job planning to your non-medical workforce and Agenda for Change staff groups. By taking the assessment, we'll provide you with a tailored business case template and ROI calculator.
Request your assessment here:
Job Planning Assessment
Job Planning Assessment
COMMUNITY CATCH UP: Watch back our latest JobPlan Catch Up
Thanks for those who joined us our 3rd Community Catch Up, all about Allocate JobPlan. It was great to be joined by Michael McDonagh- Medical e-rostering Lead at Wye Valley NHS Trust, who shared how they have used the reporting data to improve their job planning and drive engagement.
To watch back this latest edition, you can do over on the Support Portal here > https://www.allocate.support/hc/en-us/articles/8513055150748
Our Next Community Catch Up takes place Tuesday 5th December
Our next session takes place on Tuesday 5th December at 2pm. Register your place today:
Register
Register
EVENTS: NAMPS Conference 2023
We had the privilege of attending the NAMPS Conference on Friday 20th October. Taking place at the Royal College of Physicians in London, the team had a brilliant day attending sessions, hearing updates from NHSE and keynote insights into helping improve Equality, Diversity and Inclusion as well as connecting with customers and other delegates.
If you want to catch up with the team following the NAMPS conference, the team are happy help. Just contact us at [email protected].
Pictured (left to right): Tom Bird, George Webb and Hannah Kitchen from RLDatix attending the 2023 NAMPS Conference.