Extended economic downturn after two national lockdowns and a potential 6 weeks between December and January paydays means increased financial pressure for your staff.
Most NHS staff will be paid on the 18th of December this year to help manage Christmas spending. This means many taking on extra shifts to cope will still have to wait up to 6 weeks until they get paid in January, adding to the increased financial burden that many households have faced during the pandemic.
Healthcare Organisation leaders  have the power to stop increased stress and financial pressures from snowballing and negatively affecting staff wellbeing.
Staff left with little disposable income 2 weeks before January payday
A survey by Portafina found that 43% of disposable income is spent within the first 24 hours of payday and a 81% is spent within 7 days.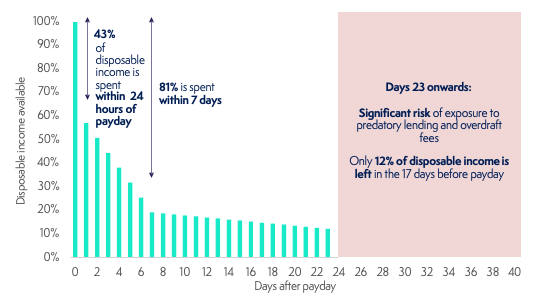 From day 23 onwards, only 12% of disposable income is left. The possible 6 week wait for payday this January means staff are at significant risk of failing to meet unexpected expenses and are exposed to predatory lenders.
The financial pressures of the outbreak
Whilst healthcare workers have been on the frontline and in high demand throughout the outbreak,   have seen up to a 17% decrease in overall income (CEBR).
This has a knock on effect for the whole household and means that 2.87 million people affected by coronavirus are now at risk of long-term debt problems (StepChange, Tackling the coronavirus debt problem).
The second lockdown is likely to have led to a further challenge to household finances, A survey by Compare the market found that 35% of people were concerned about paying bills through the second lockdown, while 33% say that they will struggle to look after their families (Compare the market).
We know that financial pressures have a huge impact on staff wellbeing. Paul Farmer, Chief Executive of mental health charity Mind, says that the second lockdown could be "the greatest test of our mental health this year".
What can healthcare leaders do?
It's certainly not all doom and gloom. As a healthcare organsiation leader, you have the power to stop financial uncertainty becoming a lasting issue and have a real positive impact on the financial lives of your people.
The outbreak has demonstrated our ability to come together as a country, something that's hopefully set to continue throughout the Christmas period.
As your staff continue to work hard on the frontline, organisations are in the perfect position to be that financial lifeline and reduce stress at an already tricky time.
Allocate InstantPay powered by Wagestream
As we've seen throughout this outbreak, increased liquidity is vital to helping us survive. That doesn't stop when it comes to wages.
InstantPay or earned wage access provides employees with access to their wages as they're earned.
It provides effective liquidity to staff, meaning that they can cover unexpected expenses, manage money better and build towards a more secure financial future.
This increased liquidity has already helped thousands of Wagestream users throughout the outbreak.
"Normally with bank shifts, you have to wait a month until you get your pay. It's good that you can draw out wages from after you've worked a shift."
Maternity Support Worker, Royal Surrey NHS Foundation Trust
86% of users have said that Wagestream has made them feel less stressed throughout the COVID period
67% said Wagestream makes them feel more in control
46% have avoided using a payday loan throughout the covid period
To help support you throughout this difficult time, InstantPay can be launched at no additional cost to Allocate HealthRoster customers.
To launch InstantPay for your staff in just one week, get in touch today.
Original blog article written by Allocate partner Wagestream