Provides the 'why, where and how' to optimise roster efficiency and reporting
Balancing quality of care with workforce efficiencies against a backdrop of financial pressure is a challenge most healthcare organisations face. Allocate Insight gives you the evidence through healthcare management information (MI) and benchmarking to answer why, where and how your organisation needs to change to optimise roster reporting and safeguard your most valuable resource: your workforce.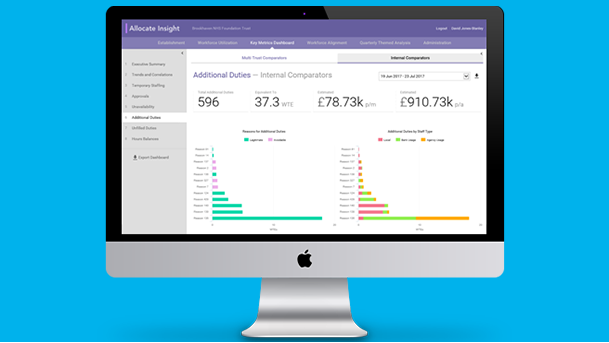 Focus in on key metrics
Quickly identify units and wards that manage their teams effectively and those where support is needed with intelligent workforce data reporting. Benchmarking
Compare how your organisation performs both internally and externally with other healthcare providers, helping to guide best practice. More than technology
Get our support and reporting consultancy alongside access to the Insight Portal, building on your analytical skills and knowledge in relation to rostering.
Get in touch to find out more
FAQ:
Simply talk to us about a Baseline Assessment. This is no-obligation assessment which will help you answer the following questions:
Are you set up for success?
Are you rostering effectively?
What's your rostering efficiency opportunity?
How do you compare?
Monthly engagement calls with our Workforce Analysts, membership of the Allocate Insight Community and Insight Masterclasses are all included in the Allocate Insight package.