Create and operate a medical locum bank with LocumOnDuty
Give locums the freedom to self-roster with the LocumOnDuty app.
Enable your organisation to reduce agency spend and meet performance targets by integrating with rosters and collaborative banks to fill shifts.
It is easy to implement, and the app can be rolled out quickly to all locums.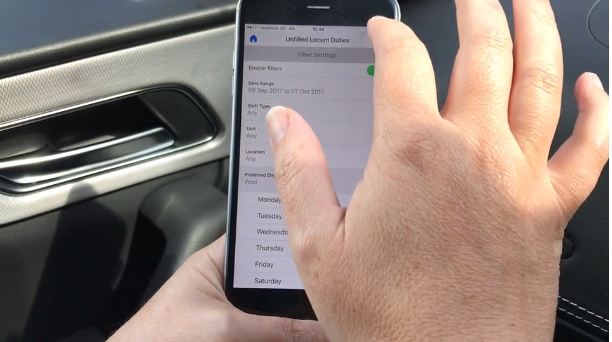 Access anywhere
Let locums view available shifts, express interest and book shifts all while on the go using the LocumOnDuty app View CVs
Choose candidates based on skills and experience by viewing uploaded CVs before approving Customise pay rates
Adjust pay rates per hour or per session before advertising shifts and send to ESR for easy payroll processing
Bank staff are the resource that keeps our patients safe when the going gets tough. We rely on them to be compassionate with patients, but we have the flexibility to deploy them where we need them most. The temporary staffing team always keep us updated when there are issues and if we ever need them they are available to help. The systems is excellent because it is transparent and that means we can do so much more than before with the same number of staff.
Zuber Patel
Senior Matron, Lancashire Care NHS Foundation Trust
READ THE FULL CASE STUDY
Discover HealthRoster Optima
Get LocumOnDuty as part of HealthMedics Optima, a powerful all-in-one package that includes eJobPlan, eRota, MedicOnDuty, ActivityManager and MedicAppraisal. You'll also get access to our free training and accreditation from the Allocate Academy and a Customer Success Analyst to ensure you get the most from your Allocate solutions
FIND OUT MORE
Get in touch to find out more
FAQ:
LocumOnDuty is shared bank ready; making it even easier to set up a regional locum bank with partner organisations, by publishing shifts not filled by your own doctors to other locums in the area without incurring agency fees.
Designed with doctors and for doctors, LocumOnDuty allows you to manage all aspects of your working life in one place. It allows doctors to see relevant locum before agency, both for individual duties and blocks of work, and it allows doctors to quickly book or express interest. 
LocumOnDuty is full of doctor specific rich functionality including simplified payment allowing you to set sessional or ad-hoc pay rates (hourly/sessional) for duties, advertise them online to locums and send rates to ESR for easy payroll processing.