Appraisal & revalidation Software designed for medics
MedicAppraisal is our comprehensive and user friendly medic appraisal solution that grants both medics and their trusts increased visibility and order over the appraisal and revalidation process.  
This paper-light software solution delivers an easy-to-follow workflow process that helps both medics and their trusts manage and monitor the progress of appraisal and revalidation effectively. It enables medics to seamlessly capture and process their documents on one portal and provides access to those who need to review it.
• Conforms to the NHS Revalidation Support Team's (RST) requirements
• Integrates with the eJobPlan and the 360 degree feedback portal
• Guides medics through the process to ensure completion
• Ability to review appraisal progress and receive deadline reminders
• Access of progress reports for appraisals and revalidation throughout the trust
• No more laborious hard copy retrieval
• Responsible Officer dashboard grants access to appraisees information so informed recommendations to the GMC to be made
Please fill in this form to get your PDF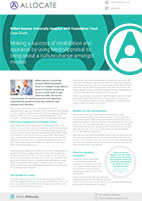 Milton Keynes University Hospital NHS Foundation Trust
Making a success of revalidation and appraisal by using MedicAppraisal to bring about a culture change amongst medics. Milton Keynes who decided to move away from using paper records and spreadsheets to capturing information about revalidation and appraisal electronically... read more.
• Secure web-based system using encrypted data
• Web portal enables different stakeholders in the revalidation process to gain access
• Ability to mark stored documents as private; limiting access to the appraiser and responsible officer
• Integrates with eJobPlan and the 360 degree feedback portal
• Continuously updated to conform to the requirements set by the NHS Revalidation Support Team (RST)
• Built around the RST's MAG model appraisal form that guides doctors through appraisal stages
• e-Portfolio structured in accordance with GMC recommendations
• Sophisticated document input system that allows doctors to input paper or electronic documentation at any location via fax, email or scanner
• Integrated Responsible Officer dashboard delivers detailed information about each doctor's revalidation cycle, including their last five appraisals, supporting documentation and governance & fitness to practice information; facilitating a fully informed recommendation for each doctor to be sent to the GMC
• Greater visibility over reoccurring failures to deliver good practice
• 360 degree feedback system uploads colleague and patient feedback reports automatically in doctor's MedicAppraisal as supporting documentation
• Powerful reporting over appraisals and revalidation throughout the trust
• Web-based paper light system
• Greater control and management over the large quantity of documentation needed for appraisal
• Robust user-friendly workflow
• Automatic workflow email reminders for appraisal deadlines and needed documentation sent to appraisers and appraisees
• Responsive to changing requirements
• Offers doctors and trusts full transparency over their appraisal submissions
• Electronic sign-off of key appraisal outputs
• Instant accessibility to information
• Laborious hard copy retrieval eradicated, eliminate time-waste searching for relevant documents in storage
• Capture and process important documents and content securely
• Reduce financial costs associated with paper-intensive tasks
• Improved collaboration and communication
What our customers have said…
"With revalidation becoming operational we wanted to ensure we are fully equipped with a solution for securely managing our doctors' evidence and for efficiently handling the processes. We considered a number of others options but decided that, as the Trust already uses other Allocate systems for our junior doctors, we had the confidence Allocate would provide us with a system that is the best tool for the job."

Dionne Saxon, Senior HR Manager

Medical Staffing, North Essex Partnership NHS Foundation Trust
"Having seen a number of other appraisal and revalidation solutions during our selection process, we felt that MedicAppraisal was the only system that really gave us confidence and made us feel secure. We felt it was the only system that would properly manage the evolving situation of revalidation, and make handling the paperwork easy to control. We already had the eJobPlan system and were very happy with the support we had received; this played a big part in our decision. From our point of view it's a major benefit that MedicAppraisal shares a portal with solutions for job planning and 360 degree feedback."

Myrna Coutts, Appraisal/Revalidation Administrator

Northamptonshire Healthcare NHS Foundation Trust
Please fill in this form to get your PDF
MedicAppraisal
Appraisal and revalidation software designed for medics

MedicAppraisal is a proven system that supports both doctors and appraisers in delivering compliant, efficient and effective appraisals as required for the revalidation process.